Get the Best of Tile and Hardwood Via Wood Look Tile in Liberal, KS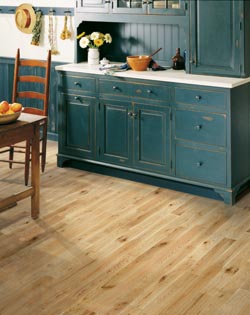 Tile is one of the most practical floors around, given how easy it is to clean and how well it fits into any space. What if we told you that at Flooring America & Furniture Outlet, it's possible to combine this practicality with the beauty of wood? Our stock of wood look tile in Liberal, KS, does just that. The material combines classic hardwood with a sturdy ceramic surface that you can get in the form of planks or tiles.
You get a unique look with grouted wood grain ceramic or wood plank porcelain tile. With the help of our professionals, you can pick from lots of species and grain patterns for a floor that's truly yours. The design options are limitless, and sure to impress your guests. With a floor like this, you can enjoy the same appearance all over your home, including places with high levels of moisture. Wood-like tile doesn't contract in bathrooms, basements, or even kitchens.


Cleaning Floors Is Now a Breeze
The best part of wood plank ceramic tile is how easy it is to maintain. There's no need to refinish or sand a floor like this, and tile is known for its simplicity in cleanliness. No more scrubbing on your hands and knees or restricting your pets and kids for fear they'll damage your new investment. By choosing a floor like this, you get complete protection from the following threats:
Dirt
Dust
Scrapes
Spills
Shrinking
Warping
Bumps
Impacts
Our staff is glad to answer all of your questions about caring for your new floor, and we encourage you to let us install it for you. Proper installation is the best way to ensure your porcelain or ceramic wood tile lasts as long as it possibly can and performs up to your standards. We know our products better than anyone and back our work with warranties and guarantees. At Flooring America & Furniture Outlet, we stand by our installers because we know they're the most qualified and careful contractors out there.


Keeping Your Home Warm and Cool at the Same Time
Having porcelain wood tile means you always enjoy warmth in your décor, but still feel coolness under your feet. When those hot summer days and nights roll in, your feet experience relief without you having to give up the coziness that wood provides.



Contact us for a floor that's as strong as it looks. Our showroom's location is convenient to Liberal, Elkhart, Johnson City, Laverne, and Texhoma, Oklahoma, and the nearby neighborhoods.