Vinyl Flooring in Liberal, KS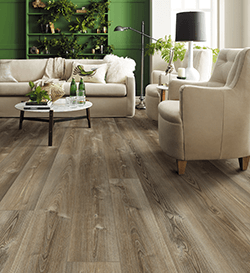 Enjoy a beautiful new style throughout your home when you shop with us for your new vinyl flooring. At our flooring showroom, we proudly feature a wide selection of vinyl sheet flooring and other products. No matter what your design preferences are, we have what you need to take your décor to the next level. Our goal is to deliver the leading product options that help you enhance the look of your space without going over budget. Visit us today to explore our inventory of vinyl tile and vinyl plank flooring and discover why vinyl is the most versatile option available.
Enhanced Durability With This Flooring Option
As a homeowner, you have enough to deal with on a daily basis without worrying about keeping your floors clean. Your floors go through a high level of use on a daily basis. Over time, weak flooring materials start to wear down. From cracks to dents, you start to notice a series of flaws throughout your home.
Choose a material that stands the test of time. With a vinyl flooring installation from our team, you can count on your new surface to hold up to regular use. Vinyl is a durable and scratch-resistant material, making it the right option for any home with pets and young children. It is a stylish and durable addition to kitchens, game rooms, and play areas.
Are you tired of the same old look in your home? With an installation of vinyl tile flooring, you can create the style of your dreams in any room. Whether you prefer the warm feeling of wood or the natural style of slate, we have the perfect option for you. Our collection of vinyl floors is available in a series of different colors, patterns, and styles. We are happy to help you choose the right options to enhance your home.
Every homeowner is a fan of beautiful hardwood. If you have dreamed of adding this luxury style to your space, vinyl plank flooring is the affordable option that you need. This flooring offers an elegant look for kitchens, living rooms, and bedrooms. The grains and whorls of numerous species are perfectly mimicked in this flooring. It is available at a price that fits every budget.
Complete Vinyl Flooring Installation From Start to Finish
The decision on your new flooring can be a bit daunting. Once you have chosen your new vinyl flooring, however; we are here to help you finish the job. Our experienced team of professionals works carefully to ensure that your vinyl flooring installation is completed correctly. We focus on the details to guarantee a flawless result that protects your investment and looks great for many years to come.
No matter what your style preferences are, you are sure to find something you love when you shop with us for your vinyl flooring. Our showroom features a wide range of options that look beautiful in any part of your home. And, because we only stock products from the top brands in the industry, you can trust that you are getting your money's worth. Shop with us for options from the following:
Contact us to explore our selection of vinyl flooring for every room. Our collection of vinyl sheet flooring is available throughout Texhoma and Laverne, Oklahoma, as well as Johnson City, Elkhart, and Liberal, Kansas.