Find Beautiful Tile Flooring in Liberal, KS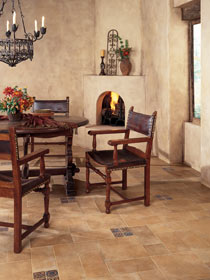 Are you looking to update your interior by fitting your space with brand new flooring? Your flooring is one of the biggest contributing elements to any interior design scheme. It's one of the first things friends and visitors when they step foot in your home.
Curating an enviable look and unique feel in your living space is affordable and fun when you visit our fully stocked showroom. Flooring America & Furniture Outlet proudly carries an impressive selection of beautiful tile flooring in Liberal, KS. One stop in our expansive showroom is all it takes to find an excellent flooring choice that meets your budget, design, and performance needs.
You don't have to settle for the same, old style in your home. Breathe new life into your space with one of the many exceptional flooring selections that await you. If you're tired of looking at outdated flooring, fit your space with one of our stunning tile selections. Whether your design visions call for ceramic tile, porcelain tile, or something else entirely, you are sure to find the floors you need for your project at competitive prices.
Choose Tile for Its Ease of Maintenance
When you're looking for new flooring, the last thing you want as a homeowner is to undergo a new renovation and have your project show signs of wear early. Concerning durability, some materials are better suited for busy households and environments that experience a great deal of foot traffic. Subdue the effects of scratches, spills, and stains with our laminate tile flooring products.
No one wants to spend their whole afternoon cleaning their flooring when there are more pressing matters on the agenda. The demands of family and work leave little time for household chores. Advances in manufacturing have made a variety of tile flooring more desirable than ever due to its impressive ease of manufacturing. Cleaning and maintenance become nearly effortless when all it takes to clean them is a quick mopping to keep them looking clean.
Our specialists have a thorough knowledge of the many laminate tile flooring and other products in our vast inventory. Taking the time to understand your unique parameters, we help you peruse our wide selection to find a style that satisfied your lifestyle and performance needs.
Enhance Your Interior Design with Our Tile Inventory
Enhance your home's interior design with an elegant ceramic tile from our store. One of the most versatile tile flooring choices available on the market, ceramic is famous for its diverse array of colors and patterns. Finding the perfect flooring product to coordinate with your décor is no problem with help from our knowledgeable specialists.
Bring timeless beauty to your home by selecting porcelain tile for flooring project. Porcelain easily retains its unique appearance even when its exposed to heavy foot traffic and extreme moisture. If you want a unique flooring choice that easily resists fading, moisture, and staining, consider our porcelain selections. Shop our extensive inventory to find the perfect porcelain tile to complement your home's interior design. Our keen staff members are always on hand to assist should you need it.
Bring the enviable appeal of stone to your home with beautiful slate tile. Slate is one of the most desirable stone flooring options due to its affordability, rustic look, and texture. A metamorphic stone formed from several different types of minerals, slate tile ranges widely in color. They come in a wide variety of colors and texture options. Explore our showroom to discover the best color and texture for your design needs.
Tile Flooring Installation That's Second to None
Ensuring the beauty and longevity of new flooring starts with a professional flooring installation from skilled technicians. Once you're satisfied with your floor covering, turn to our experienced crew for a comprehensive tile flooring installation. With our professionals laying your flooring perfectly in place, you'll be able to enjoy your new floors sooner than you thought possible. Trust your installation needs to our dedicated crew and we'll leave you with a new flooring surface that you'll continue to be proud of for years to come.

Contact us today to find the great tile flooring solution that will upgrade your home or office. Maxwell Brother's Flooring America proudly serves Torrance, Palos Verdes, Rolling Hills, Lomita and Rancho Palos Verdes, California.