Luxury Vinyl Planks in Liberal, KS, Add Richness To Any Home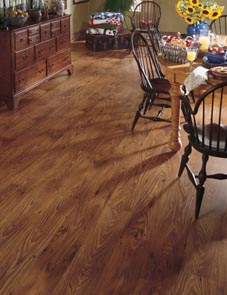 You love the rustic richness and beauty of oak and pine hardwood. However, it isn't always a realistic choice if you want to install this gorgeous flooring in moisture-prone spaces or if you are on a budget and can't afford to pay higher prices. Flooring America & Furniture Outlet offers the perfect solution: our luxury vinyl planks in Liberal, KS. These bring the appearance and texture of natural, hardwood floors even in kitchens and bathrooms. There's no need for sanding, refinishing, or heavy maintenance, and you get uniform aesthetic throughout your home.
A luxury vinyl plank floor is soft underfoot, more so than its counterparts, and it works well in high-traffic spaces. Families, parents, pet owners, and party-throwers all love these floors and their worry-free features. Because luxury vinyl repels liquids, allergens, and dirt, no one has to fret over spills or what they track in from outside. Best of all, these are benefits that don't break the bank. This material is much less costly than others, and when you consider its long lifespan, you know you're getting an exceptional value. Visit our showroom today to see our gorgeous flooring selection in person.


Offering Warmth and Quiet
In addition to giving you the elegant look of natural hardwood surface materials, an LVP floor also provides more insulation and soundproofing, which contributes to a more peaceful home for you and your family to enjoy all year long.
Combining function with beauty is hard to do, but our LVP flooring makes it both possible and effortless. No one who visits our showroom has to choose between one or the other because our floors are designed with both style and functionality in mind.


Providing Your Luxury Vinyl Plank Floor Installation
Our service isn't over after you buy the floor. How your flooring is installed determines how well it performs and holds up over time, and we believe in starting your floor off right. That's why we send a team of qualified experts to your home to install your luxury vinyl planks.
With their ease of installation and the skills of our contractors, you can start enjoying them sooner than you imagine. Visit our showroom today to choose your flooring and schedule installation with our friendly staff. You can depend on us to work carefully to ensure your floor looks beautiful and stands up to the test of time.


Contact us to learn more about luxury vinyl plank. Installation is available to homes all over Liberal, Elkhart, Johnson City, Laverne, and Texhoma, Oklahoma, and surrounding communities.