Laminate Flooring in Liberal, KS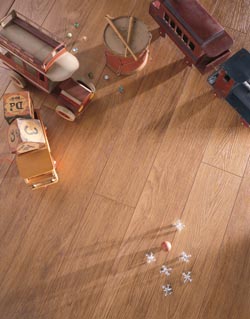 Curating a modern look and feel in your living space is affordable and simple when you visit our fully stocked flooring showroom. Flooring America & Furniture proudly carries a massive selection of beautiful, resilient laminate flooring in Liberal, KS. As a result, you will find a choice that meets your budget, design, and performance needs.
Many homeowners long to fit their space with the natural beauty of hardwood and stone. While these materials offer an unmistakable appeal, they can also be quite costly, especially if the renovation project entails redressing a large amount of floor space. When you need a flooring choice that mimics the look of high-end flooring but is budget-friendly, let our specialists show you why our laminate floors are the ideal choice. Plus, you can always expect excellent results when you leave your installation needs to our experienced crew members.
Find Materials Fit for Any Renovation Project
You don't have to settle for the same old style in your home. If you're tired of looking at outdated flooring, breathe new life into your interior space with one of our stunning laminate choices. Whether your design visions call for laminate wood flooring, laminate tile flooring, or some other look-alike flooring, you can rest assured that you'll find the floors you need for your project at irresistible, competitive pricing.
When you first step foot on our showroom floor, you'll be greeted by our courteous staff. At your request, one of our knowledgeable specialists will gladly guide you through every step of the selection process, so you can be sure you're getting what you need to complete your project.
After determining your budget and design goals, our team will help you find the right laminate flooring choice that best fits your needs. All of our designer-quality selections are made to perfectly mimic the look of real ceramic, wood, and other desirable materials with stunning clarity and realism. No matter what your preference is, we have something for you in our showroom.
Performing Flawless Laminate Flooring Installation
AAfter you've found an option that works best for you, let our team provide you with a professional installation that's done right the first time. Installation is quick and easy when you trust the job to our experts, so you'll be able to enjoy your new flooring sooner than you thought possible. Our certified installation crew is dedicated to leaving you with a new floor that you'll be proud of for years to come.

Contact our store to learn more about our vast selection of premium laminate flooring products. We proudly serve homeowners in Liberal, KS, and the surrounding areas.