Exclusive La-Z-Boy Comfort Studio in Liberal, KS
Upgrade your home's living room, family room, and game room furniture to something with a little more comfort and style. We have been the area's exclusive La-Z-Boy Comfort Studio dealer since 2009. La-Z-Boy is the #1 manufacturer of recliners. They offer a huge product line of exceptional reclining furniture and traditional stationary styles, all available in a wide variety of comfortable and stylish fabrics.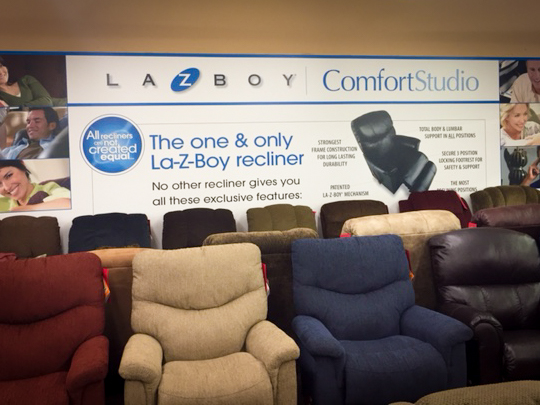 Since becoming the La-Z-Boy Comfort Studio our business has done nothing but grow every year with them. In 2013 we received the award for the #1 percentage growth Comfort Studio in the central region. Customers know they can count on us for quick and comprehensive service and in-depth knowledge of the wide array of choices offered by the La-Z-Boy brand. When you visit our Comfort Studio, you know you'll leave feeling completely satisfied with your purchase and aware of all the features and qualities of your brand-new furniture.
The La-Z-Boy brand is a well-known household name for good reason. Established in 1928, the company has since provided individuals and families with superior pieces of furniture for their living rooms and family rooms. From sofas and sectionals to recliners and lift chairs, the inventory is expansive and known for its comfort.
As a local La-Z-Boy Comfort Studio in Liberal, Kansas, we're committed to giving you these iconic pieces of furniture to add comfort and style to your space. Visit our store today to check out our current selection, which includes:
Chairs
Lift Chairs
Recliners
Leather Recliners & Sofas
Sofas
Sleeper Sofas
Sectionals
Loveseats
It's no secret that La-Z-Boy furniture is a sought after brand. Committed to quality, the company is well-known for providing superior pieces of furniture to suit every style. They even offer an option to customize your furnishings, so you can create something that's truly as unique as you are. Many La-Z-Boy sectionals, sofas, and other types of furniture are made using top-quality upholstery fabrics including:
Authentic Leather – Soft and Supple Leather Treated with Transparent Dye
Aniline Leather – Handcrafted Premium Leather Treated with Aniline Dye
Renew – Eco-Friendly Recycled Leather
Performance Fabrics – Stain and Fade Resistance, Easy to Clean
If you're looking for comfort and distinctive quality, look no further than our La-Z-Boy Comfort Studio. Serving the area for many years, we've proudly sold this favorite furniture brand to La-Z-Boy lovers for many years, and we look forward to adding you to our long list of satisfied customers.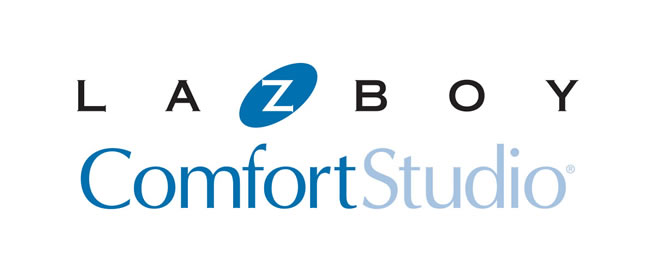 Shop for a La-Z-Boy Recliner or Lift Chair
Your living room is an area in which you and your family relax and enjoy spending quality time together. Your living room furniture should promote relaxation. Nothing does that more than a La-Z-Boy recliner or lift chair. These are more than pieces of furniture. They are furnishings that help you to unwind and forget about the stresses of the day. As an added bonus, they don't take up much square footage, making them ideal for smaller living areas.
If you're looking for a long-lasting recliner that won't go out of style, we recommend investing in one of our leather La-Z-Boy recliners. As comfortable as it is durable, this relaxing chair is sure to add a touch of elegance to your space. La-Z-Boy has been a leading manufacturer of its iconic recliners for decades, and we're proud to carry a full line of recliners, lift chairs, armchairs, and more living room furniture by this long-time favorite company.

Similar to a recliner, a lift chair is a useful comfort as well as a necessity for many people with various types of physical disabilities. Whether it's for you or an elderly or disabled family member in your home, a lift chair can make life much more convenient. Lift chairs work by utilizing a sturdy and strong mechanical frame that lifts the seated person to a standing position. This enables people to have more freedom of movement, get out of their uncomfortable wheelchair or other medical device, and experience the comfort of a recliner without difficulty standing up.
A Reputable Brand for Every Living Room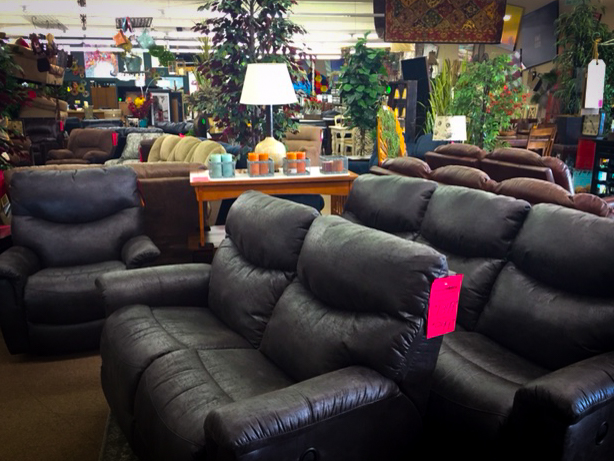 No two homeowners have the exact same taste in living room furnishings. That's why, at our furniture dealer, we stock all of the following La-Z-Boy pieces to suit every style, budget, and living room:
Sofa - Every living room needs a sofa, so you and your family can sit together and catch up on your favorite TV shows. The La-Z-Boy sofa also provides ample seating for guests.
Sleeper Sofa - Do you have overnight guests often? This sofa provides the perfect area for visitors to relax into a peaceful sleep.
La-Z-Boy Leather Sofa - Strong, durable, and beautiful, a leather sofa will meet your seating demands without sacrificing your comfort.
La-Z-Boy Sectional Sofa - You'll never have to worry about your living room not having enough seats again. In fact, the whole family can fit on this welcoming sofa.
La-Z-Boy Loveseat - If a sofa is a little too big for your living room, don't worry. Our loveseat is the solution, as it's ideal for smaller spaces.
Create a fun place for the family to hang out by adding a couple of La-Z-Boy recliners and a sectional sofa to your game room or den. Whether you're congregating to watch movies, play video games, or just enjoy a chat with friends, our selection of La-Z-Boy furniture is sure to provide ample comfortable seating for all your guests.
If you live in an apartment or your home has limited space for furniture, consider getting a single La-Z-Boy recliner, lift chair, or small loveseat. Our employees can help guide you to the perfect piece of furniture to suit any type or size of room, so stop by our La-Z-Boy Comfort Studio today to check out our selection of furniture or discuss your needs with a knowledgeable employee.
Contact us to customize your La-Z-Boy furniture. We're proud to serve customers in Liberal, Kansas, as well as the surrounding areas.