Explore Our Flooring in Liberal, KS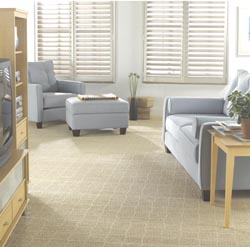 One of the most effective ways to transform a room is to update the floor. Since the floor is among the largest surfaces in any room, it has a big impact on the overall interior design. A simple swap will give your interior a brand new look. However, that also means it's crucial to choose the right floor for the job.
At Flooring America & Furniture Outlet, we make it easy to find the perfect surface for your project. Explore our diverse array of flooring in Liberal, KS, to discover the ideal style for you. Whether you're interested in something bold and contemporary or prefer understated, classic looks, we have what you need at our showroom.
Find Your Perfect Match
Why drive around town to different stores when you can do all your shopping in one place? We have hundreds of different surface styles under one roof for your convenience. Furthermore, our showroom is carefully set up to make it easy to find your perfect match.
Not sure what kind of surface you're looking for? The team at our flooring store is happy to help. We know our products inside and out, and have interior design insight you can use. Ask us for a recommendation; we'll point you towards great surfaces that match your stylistic preferences, performance expectations, and price range.
Start with a Solid Foundation
Finding the right flooring is just step one for transforming your room. Next, you must make sure it is installed correctly. Proper installation is vital to your new floor's success; when a surface is put down wrong, it becomes more prone to wear and tear, diminishing its longevity and appearance. In fact, many product warranties require professional installation for coverage.
Make sure your surface starts with a solid foundation by hiring us for flooring installation. Our trained installers have the skills and equipment to work with every product we sell, including the trickier surfaces like hardwood and carpeting. You can count on us to make the installation process quick and easy for you.
Maintenance Advice You Can Use
Our services don't stop after installation. We're also happy to advise you on how to clean and care for your new floor. Routine maintenance is the best way to extend your surface's beauty and structural integrity. Every home flooring style has different maintenance needs, so it's important to ensure you're doing what's right for your product. Consult with our staff to get the upkeep advice you need to get the most value out of your home improvement investment.
Contact us for further information on the many types of flooring we sell. We proudly serve clients from throughout Liberal, Elkhart, and Johnson City, Kansas, as well as Laverne and Texhoma, Oklahoma.