Dining Room Furniture in Liberal, KS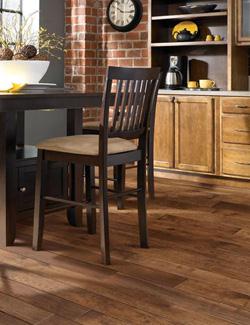 Enjoy meals more when you have the right-size table you need. Show off your sense of style with our new dining room furniture in Liberal, KS. Wood, glass, modern, contemporary, whatever you seek, you're sure to find it among our vast collections. Our versatile flooring and furniture store is known for high-quality and low-cost products, and our design specialists are happy to guide you every step of the way. With our help, you can easily and affordably revamp your dining room with quality furnishings everyone will love.
When you're ready to upgrade to the furniture you've always wanted, shop with us. Our store offers some of the best deals on different styles, sizes, and materials for all of the dining room sets you can think of. In addition to creating a uniform appearance in the room, a new set can give your space a whole new look. Choose from among our stunning selections of modern, formal, and contemporary pieces for a set that's worthy of the people and food around it.
Why Shop at Our Furniture Store?
Whether you have a large or small family, you can rest assured we have the perfect combination of furniture to complement the size, décor, and style of any room. Though expansive, our large selection of dining room tables and chairs isn't the only thing setting us apart from other stores. We also provide shoppers with the finest furniture for dining rooms available at prices that other stores cannot beat. Stop by to see our amazing collections and low rates. We can set you up with fancy, cozy, trendy, or anything else your heart desires.
Furniture is an essential part of design, as it works with the other elements in the room to create the theme and statement you want. It needs to perform well in both comfort and fashion, and we strive for the best in both with every piece. In the case of a dining room, you may have a big family or entertain periodically and want to show off your house at its best. Whether the occasion is a party, holiday, reunion, or just because, the right furniture can complete the experience. Our designers understand this well and are trained to make it happen for you.
Stylish & Affordable Sets for Any Design
From rich wooden chairs to stunning glass dining room tables, we have something for every aesthetic preference. However, finding the ideal look is only part of the process. The right furniture, especially regarding chairs, is important not just for design, but for the health of the people sitting in them. The right chair helps to support your back, improve posture, and keep your whole body comfortable. You may be eating meals in these chairs every day, so it only makes sense to invest in ones that you are completely comfortable in. We can help you select models that are just the right height and make you want to sit down.
Our dining room sets include not just tables and chairs, but china cabinets too. These are perfect for protecting your most valuable dishes while still keeping them on display for everyone to see. You can also show off unique treasures in here, like mementos or collectibles. Whatever you place inside, our china cabinets will ensure that they're safe and easily seen.
Dining rooms may seem like the most formal part of a home, but that doesn't mean the furniture has to follow traditional styles. We carry a range of contemporary dining room sets that meet the modern trends expertly. They come in a variety of colors and unusual shapes, so you can have fun experimenting with different designs. We know how to work with any preference and complement any existing décor, so you can find all you need from us.
Is your current dining room furniture taking up too much space? When your table and chairs are too big, they can make the room feel cramped and uncomfortable. With our help, you can make the room feel large and spacious again by replacing that furniture with one of our small dining room sets. These offer everything the larger sets do, but in a more portable package.
From two-seat sets to four-seat sets and more, we have something to fit every room, regardless of the amount of square footage. These are ideal for anyone with limited space and small homes. You shouldn't have to leave your dining room unused because the furniture for it is too big, and with us you'll never need to.
Contact us for furniture you'll love. We consult with customers from Liberal, Elkhart, and Johnson City, Kansas, and the nearby communities in Oklahoma and Texas.