Tile Flooring in Liberal, KS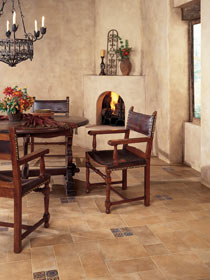 Tile is easy to take care of, even for the most reluctant cleaners. Just sweep or mop it regularly to keep it clean. Any spills or stains can typically be removed with some basic cleaning supplies and a little elbow grease. If any one of your tiles do suffer damage, you can simply remove the affected tile and install new ones in their place. You can learn more about the low maintenance benefits of tile by talking to our showroom staff.Boost your property value with the strength and beauty of tile. Homeowners throughout the nation love tile because of its visual appeal and easy maintenance. Our store offers name-brand tile flooring at steep savings. For renovation results that exceed your expectations, shop our massive selection of ceramic, porcelain and slate tile. We also offer professional tile flooring installation to ensure your new floor looks just as good as it does in our showroom.
Enhance Your Interior Design with Our Tile Inventory
Enhance your home's interior design with an elegant ceramic tile from our store. As one of the most versatile and affordable tile options currently on the market, ceramic is famous for its diverse array of colors and patterns. Since ceramic comes in so many different options, finding the perfect product to coordinate with your décor is no problem. If you need any help selecting the right style to suit your interior design, just reach out to our showroom staff and we can help you pick the perfect tile. In addition to its visual versatility, ceramic tile is also incredibly durable and damage-resistant. With the right glaze or sealant, cracks, chips and water damage are no concerns at all.
Bring timeless beauty to your home by selecting porcelain tile for your flooring needs. Porcelain is known for retaining its unique appearance even when faced with heavy foot traffic and extreme weather. If you want a one-of-a-kind floor that resists stains, moisture, textures and fading, consider porcelain.
Porcelain's strength is matched only by its visual appeal. Whether you prefer a classic or contemporary look, there is a porcelain tile product for you. Shop our extensive inventory to find the perfect porcelain to complement your home's interior design. Our staff members are always on hand to provide design assistance when necessary.
Bring the natural appeal of stone into your home with slate tile. Slate is one of the most popular stone flooring options currently available due to its affordability and its rustic look and texture. Since slate is a metamorphic stone that is formed from several different types of minerals, slate tile ranges widely in color. You can find black, green, red, purple, gold and even blue hues. Tiles made from slate also come in different texture options. Explore our showroom to discover the best color and texture for your design needs.
Save Time and Money with Our Installation Service
Tile flooring installation is exhausting if done on your own and expensive if done by an unknown subcontractor. We help you save time and money by providing our own installation services. Our certified installers are very affordable and work efficiently so you can enjoy your new floor sooner. Furthermore, they are trained to properly handle every flooring product we sell, so you never have to worry about broken tiles or improper installation. If you have any questions or concerns about our installation services for tile products, we'll be happy to answer any question you may have.

Contact us today to find the great tile flooring solution that will upgrade your home or office. Maxwell Brother's Flooring America proudly serves Torrance, Palos Verdes, Rolling Hills, Lomita and Rancho Palos Verdes, California.